I write every Monday about the wonderful things that I have done the week before with children. I use the Traveling Closet and I do this to give you lots of ideas for your own Closet experiences.
However, I don't want any of you to get the idea that every day or every week has to be filled with fabulous, well researched stuff. Frankly, I like you, have a down day or week every now and then. There are times when I just want to kick back and rest. Then there are times when an intervening circumstance makes it necessary to do something different.
Both of those things together have combined in the last two weeks and so today is going to be an example of a Closet designed to have fun, join in family events and frankly, not stress out and just be together.
I didn't do any big planning for this week. I didn't go to the library for some fabulous books. I didn't do any research on the internet for crafts or projects. I didn't have a wonderful topic in mind that I wanted to introduce my grandchildren to.
On my way to my grandchildren's home I bought a package of biscuits. I wanted to make cinnamon snakes. When I got there I set the Closet down and the children started looking at the contents. I announced that we were going to paint and cook. Jack replied, "OK grandma. First we cook and then we paint." So that is where we began.
There was no reason to make cinnamon snakes. I didn't have a book on snakes or any intention of learning about snakes. I just know that the children like to cook for its own sake. So we began our day with cinnamon snakes. I didn't realize that rolling dough into a snake would take a bit more dexterity than they had. We had to practice. When you work with children you just can't mind a bit of dirt in the finished project!
My husband is creating an air gun shooting range for himself. He had cut out a number of small wooden animals to put into one target. So, we all helped paint grandpa's animals so he could put them in his range.
I just gave each child a brush a large piece of paper and a wooden animal. Then we poured the paint right on the paper. When they were done and wanted another animal and another color we just traded papers. Grandpa was very satisfied with the result. This particular range won't have his usual perfection but it sure has memories and will be fun to use.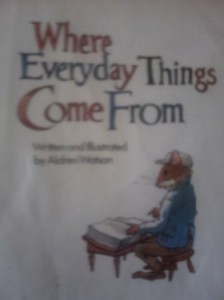 I had discovered a very old book about where things come from in my library. It has no cover and has been read over and over by many children over the years. The explanations are not scientific and the pictures are not precise, just fun. It tells in simple language that the things we use everyday such as plastic, coal, glass, rubber and electricity can come from some pretty unexpected sources.
I had a coloring page of a darling ladybug. I thought we might review what we had learned a few weeks ago. No dice! No one wanted to color or talk about ladybugs. Not even Maggie who loves coloring pages!
That was it. We had a fun time and enjoyed being together. We helped grandpa out. It was a peaceful Traveling Closet day.
By the way I have a new camera. I am sure you can tell. I would apologise for the poor quality of the pictures but then everything has a learning curve. Right?
I would love for you to share some of your successful learning experiences. Leave it in comments below or email [email protected] : )
Book on where things come from for kids:
Where Everyday Things Come From by Aldren Watson (available at Amazon book)
Possibly Related Posts: