The three year old walked into the room the second day, stopped and said, "This is awesome!"
A mom stopped me at the door to tell me her nine year old couldn't sleep all night because she had been so excited to come back the next morning.
At 9:30 on Sunday morning the phone rang. On the other end of the line I heard a woman's voice saying, "I know its Sunday but I just couldn't wait to call you. My two kids haven't stopped talking about the center since we left yesterday. In fact they woke me up early this morning to talk about it some more. We have been playing with their screaming balloons."
Every now and then we have the opportunity to do something wonderful! I just had that experience with the Love of Learning Center. Last year it was new and I learned some things. This year was practically perfect!!
Designing a space for over 130 children, for two days, that will really be inspiring, is a challenge and I and a staff of about 35 other moms and youth took it on.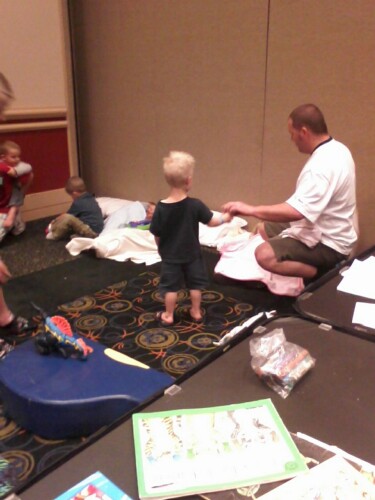 I have to say that I had the most amazing staff! It was such a delight to watch Dave Schugk in the under 3 station for a whole day! He is a natural – patient and fun. The littles just loved having him there.
We couldn't have done it without our youth in the baby station. Grey Boyce, Maryn  Taylor and Natalie Good rich played and played and played! I also want to thank two young men who just showed up and then stayed. Thanks guys, I wish I knew your names!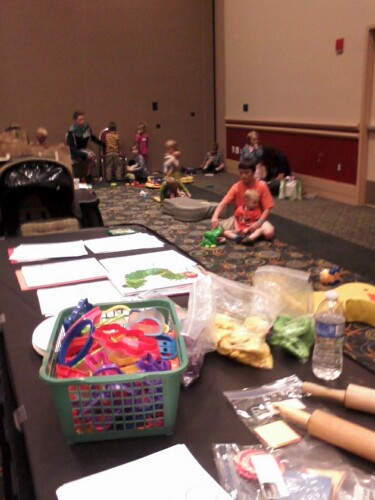 My hat goes off to Penny Robinson and Jodie Palmer who managed all these people and babies. These are amazing moms!!!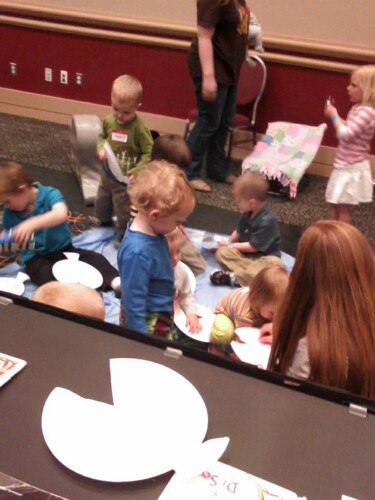 Our true blessing both days was Amber Wright who managed the bathroom duty and had her own staff of youth to get it done. Sara Rast, Chloe Tippets, Deija Schugk and Madison Boyce were terrific! Also Brittany Baron was huge help on Friday. With 135 kids you can imagine that they just about wore a trail into the carpet to the bathroom and the drinking fountain.
One of the most loved stations was the Performing Arts. Belinda Ballentyne and Beverli Haroldson were magnificent. They had children running, dancing, imagining and playing puppets. It was a blast.
Another station that really rocked for the kids was the Games station. Here is where kids were able to let off a lot of steam playing Red light Green Light, Hopscotch, Button Button and Duck Duck Goose among other games. Nate Pack and Carol Cripps were perfect in this station – high energy and fun!
Did you know that this year is the 100 anniversary of the Cherry Blossom Festival in Washington DC and that the trees were a gift from Japan? Well it is. The children had the help of Britta and Carter Schugk to make a Japanese painting of cherry blossoms and also experiment with origami.
We were also only one week away from Mothers Day so of course we had to have a Mothers Day station. Kelly Tippets and Penny Robinson helped the children make two beautiful cards for their mom or grandma.
Do you know how many batches of play dough it takes to make enough for 130+ kids for two days? Well we in the center know. It takes a lot. Niki Brown and Beverli Haroldson helped the children make some cute creations from play dough, beans, macaroni, wiggle eyes and beads. Little guys that looked like the green monster in Monsters Inc were very popular.
Science was big in the center. We had a station that dealt with the senses. Ever heard a screaming balloon? We have and it is fun. That little project taught us all about friction, centrifugal force, sound and so forth. The kids also made their own kazoos with tape, newspaper and toilet paper tubes. They had a ball and made a mess experimenting with a bucket full of confetti. If you stop spinning it the confetti falls out. I have to hand it to Gordon and Melinda Boyce and Heidi Sorensen for their ability to stay on their knees demoing how to clean up confetti and keep smiling.
Another science station dealt with color. Spinning color wheels and color magic lava were a big hit. Ginger Silveira and Leah Cluff kept the eruptions in check and food color off the floors. Way to go guys!
My personal favorite was the coloring station. We had a plethora of markers, crayons, colored pencils and some of the most amazing pictures you can imagine to color. I might mention that the fabulous pictures and free coloring pages came from the Dover Free Sampler which I have praised before.
Sara Pack handled that station on Friday like any mom would – orderly, neat, with great picture results. On Saturday we had Aaron Hart with us and I have to say that the coloring morphed into some fabulous airplane making and flying. The difference between guys and gals!
Kym Peavoy, Suzanne Hanks and Savanah Hanks taught the children how to make their own books with needles and thread. The books were easy and turned out great. They also taught them to make monsters, germs and other unsavory creatures by blowing paint around with a straw.
In one station we had some very old art going on. I did these things when I was a girl in the 60's. Joanna Maymon and JuliAnne Zabriskie helped the children to make pictures from crayons, erasers and toothpicks. AMAZING!
Another really amazing center was run by Monica Minney and her son Lee. They taught the children to draw on their own slates just like in a one room school. Lee was a real trooper for two days and did a ton of drawing.
My hat goes off to Rebecca and Nathan Dilts. They also did a couple of olden day crafts which took a huge amount of time to prepare. I do not know how many hundred straws and how many hundreds of bits of construction paper were cut. Rebecca's mom and Rebecca had busy hands in front of many TV shows!
Also a BIG thank you goes to Kate Houston and Carrie Chouquette who weren't even part of our staff. They cut straws and Carrie's entire family spent a lot of time taking the paper off of crayons among other jobs. Thanks guys!
I can't forget the wonderful people who came and did special presentations for us. Bill Peavoy who taught the kids to juggle and gave them crazy voice lessons. Ten year old Luke Sorenson who taught us all about raising bees and 16 year old Julie Robinson who taught us some Polynesian dancing. We had another youth Shannon Hess who taught the kids how to survive in the wilderness and our own Britta Schugk who taught us about bones and things in nature. These moments away from the stations was a blessing to the kids and to the adults.
Helping kids to love learning takes just a few things –
• Being present
• Being Consistent
• Offering Variety
• Keeping it simple and
• Making it special
We were able to do that in the Love of Learning Center at the Salt Lake City Family Forum and it was a tremendous success.
If you need help making your Spark Station or learning time or even family time inspiring then the Rockin Closet Idea Packet can help. Check it out.
Possibly Related Posts: