I was very happy to be asked to speak at the LDS OHEA Conference in Portland, Oregon. WOW, I haven't been to Portland and I am looking forward to going.
I will be teaching an all day workshop on Becoming a Love of Learning Parent on Friday, August 17. This is an amazing, hands on, experiential workshop on using the tool THE Spark Station (new name for The Closet).
I will be giving the Keynote on Saturday, August 18 and also teaching two classes.
Becoming a Love of Learning Parent Workshop
Is this YOU!
You aren't sure how to inspire and not require
Your parent-child relationships sometimes suffer over home school issues
There are voices inside telling you that you aren't doing a good job
You are so busy that family education often takes a back seat – There is never enough time!
You are tired of the unproductive question "What do you want to learn today?"
I am an expert on creating Love of Learning spaces where parents and children are inspired to learn and this workshop is for parents who are READY to INSPIRE 
This hands-on workshop will help you
create your own Spark Station
that will have your kids BEGGING you for school. I want you to leave knowing what to do next.
I want you to become an EXPERT on inspiring your kids!
I want you to have a Spark Station in YOUR home!
I want you to have more confidence and sweeter relationships!
I want you to learn the #1 thing that can transform your home!
This all-day hands on workshop is designed with exercises, tools and information that will make you a super star mom and dad in the INSPIRE department!
I am so excited to share with you how to create some real excitement and inspiration in your home school! You are going to have your eyes opened, get some clarity and go home with some simple strategies to help you have kids who beg for family learning time!
I am also teaching two classes at the Conference on Saturday. These are classes which literally change the lives of parents for the better.
BE PRESENT – A class designed to help you make a more significant conection with your children and help you enjoy your role of parent more.
Control your Thoughts, Control Your Life – This class is designed to show you the power of your thoughts in your parenting. It will give you some tools to take control of your thoughts and increase your effectiveness as well as your joy in parenting.
---
"My kids ran to the closet yesterday when I said it was time for school. Your ideas work! Mary Ann …is a mom and grandmother, so she has lots of life experience with little children. She knows how crazy life gets with them. She mentors you on how to make home school feel magical and fun. It' s no joke, by using her rules and ideas, I have kids who run to the closet when I announce that it's school time. Just last night, my nine-year-old, one of my rascals said, "Well, we better have school tomorrow." – Celestia Shumway – Tree of Life Mothering
---
If you are close to Portland Oregon I invite you to join me and other parents for two amazing days of learning. I look forward to seeing you there.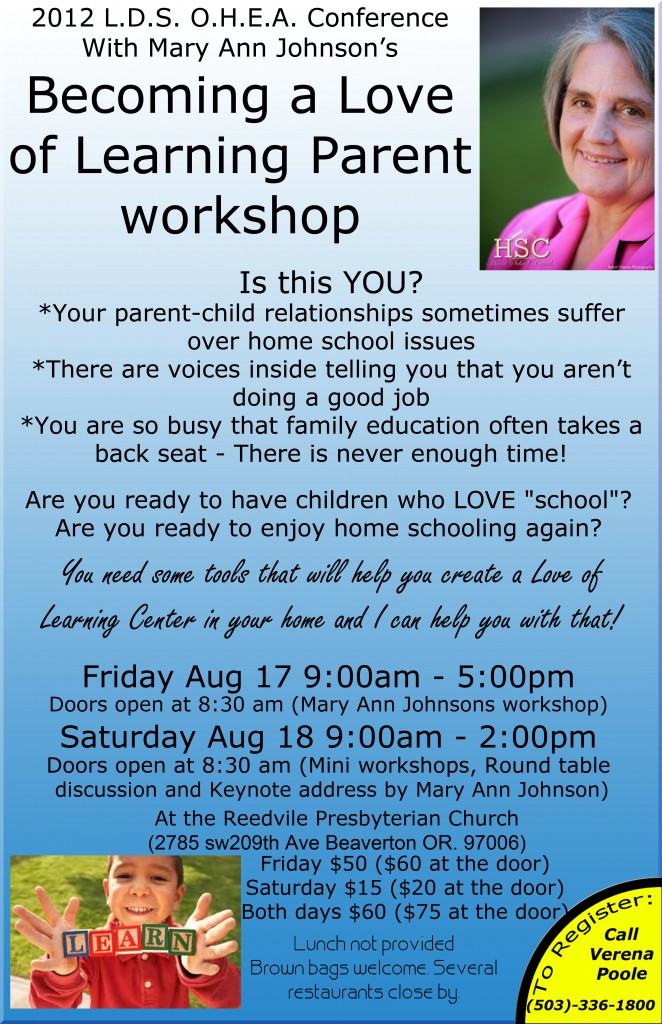 Possibly Related Posts: