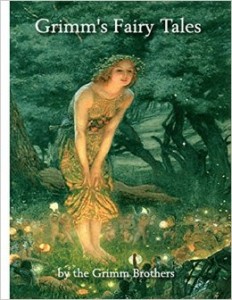 I LOVE fairy tales! I know that in today's world there are some parents who do not like them for one reason or another. But as a child I loved them!! I read them voraciously from as early as 7 or 8. I read Hans Christian Anderson and The Brothers Grimm, and some of their stuff was pretty Grimm. : ) I read Arabian Nights, Alice in Wonderland, and Aesop's Fables.
My grandmother would frequently get upset with me because when I read I really did go away into another world. She would come up behind me and holler (because she had been trying to get my attention for a while) and I wouldn't even hear her. I really loved reading and I really loved fairy tales.
Recently I ran across a book of new fairy tales written by Steffani Raff, called The Ravenous Gown. It is full of 15 fairy tales about real beauty, real life and true principles. Some are serious and some are funny. They were a very fun read and I think that kids, especially girls, of all ages, if they love fairy tales, will love this book. Parents and children alike will fall in love with how Raff's artfully crafts fairy tales that allow us to see the beauty that is in us all.
It is summer time. That is a time for lying on the lawn, as the sun begins to set, and reading; kids alone and kids with
their parents. Summer is really for reading. So why not get lost in a book with courageous princesses, gallant knights and unlikely heroines and heroes. Reading as a family is an amazing way to connect, relax and learn. When we read to our children we help them learn to love reading, just as I did, and we help them become independent learners.
Let me share some gems from a few of my favorites:
The second story in the book, The Magic Mirror, was worth reading for the final sentence alone. "And they all lived as happily as they allowed themselves to be." And isn't that something we want to teach our children, that they have power in their own lives, for good or bad, by the choices they make in how they think and feel.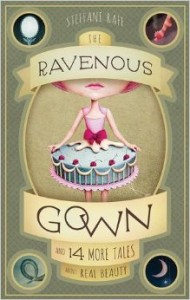 And then there is the re-write of a very famous story, Cinderella – Sort Of. Even as a girl, and one who loved fairy tales, I got tired of all the heroines being beautiful and perfect. Where were the real girls, living real lives, making real mistakes, who triumphed anyway? Right here in this refreshing story you will find one.
And finally, The Princess Who Could Fly. By showing people how to "see" differently she brought peace and joy to her kingdom.
Check out The Ravenous Gown because I think you are really going to like this book.
The Ravenous Gown is available on Amazon.com and Barnes and Nobles online, as well as on their website.
PS. I am not getting paid to tell you about this book, I just happen to think it was a very enjoyable read. : )
Possibly Related Posts: