When I was girl I lived in a series of small towns. Just before the start of the new school year there was a holiday called Labor Day. I had no idea what it was about but I knew it meant school was starting.
In the small towns that I lived in there was always a big celebration with a parade down main street, a BBQ in the park and boring speeches by important people. Over the years, whenever Labor Day rolls around someone in my family will ask, "What is the Labor day holiday for?" and someone else will reply "I think it must have something to do with working or working people". If a child asked an adult "Why do we celebrate labor day?" they might hear "It's a day to celebrate how much work it was to bring you into the world and then take care of you".
I thought it might be interesting to fill you in on what Labor Day is all about so that when your child asks you, you can give them a real answer and not be a wise acre! How about an activity or two that you can do as a family to learn about and celebrate the day.
History of Labor day:
• Labor Day is celebrated on the first Monday in September. It's a day dedicated to the everyday worker. This holiday gives tribute to the working class contributions to the strength, prosperity, and well-being of our country. Labor Day became an official national holiday in 1894. This holiday is usually celebrated with summer activities – swimming, camping, picnics, etc. Labor Day is the unofficial end of summer in the Northern part of the U.S. Most schools usually start sometime during the week after Labor Day.
Labor Day Activities and Ideas:
•This labor day why not have a family program in your living room and show your children what labor you perform in your comunity. Maybe you are a doctor, teacher, salesman or nurse. If the timing is right go on a field trip and show them where you work. You might round out the program by having each person in your family share what it is they think would be the most fun work to do when they grow up. Then don't forget the treats.
• Take some time, at dinner for example, and talk about all the contributions children can and do make. Here are some ideas – Baby sit, Deliver newspapers, magazines or flyers, Walk dogs/care for pets, Do yard work, grass cutting, Help a neighbor with chores, Do chores in your own home, Be a tutor, Help out at kids clubs, Teach computer skills, Volunteer. All of these things are important because they contribute to society – kids do make a difference.
• Make a collage by cutting pictures out of magazines of people doing different kinds of work.
Teaching Children the Importance of Work
• At another meal you could discuss why it is important to work and what we can learn: Money Management -You quickly learn the value of money when you earn it yourself. Time management – You will learn how to manage your time, be organized, and set schedules so you can get your work done and still have time for school and play. Responsibility – When you make a commitment to take on work or chores or do Volunteer work, you have to follow through because people are counting on you. Setting Goals – you want that bike? Set the goal and go for it. Work teaches you this.
Labor Day Games and Puzzles
• Make the game Tools of the Trade and then have a family game night and play it. Serve pop corn. Just make cards showing a tool from many different occupations. Use blank index cards) Make two cards for each tool. (hammer, dentist drill, garden rake, semi-truck, judges hammer) Then play the game just as you would Memory. Take turns turning over two cards until a match is found. The person with the most matches is the winner. Part of the fun is in choosing the occupations and then deciding on a tool for each.
• Print off some super Labor Day Wordsearch puzzles.
Labor Day Crafts
• Look here to find some great crafts to help teach your children about Labor Day.
Short Stories for Labor Day
• Follow this link to print out some  short stories to share each day of the week before Labor Day. Here is just a small sample of what you will find. The Smithy by P. V. Ramaswami Raju, Indian Fables; Hofus the Stone Cutter, A Japense Legend from The Riserside Third Reader; Arachine by Josephine Preston Peabody, Old Greek Folk Stories; and The Champion Stone Cutter by Hugh Miller
• Choose a book or two about working to read in your family reading time. Here are a few to choose from.
Labor Day Books to Read to Children
A Job for Wittilda by Caralyn Buehner – Wittilda the Witch needs to provide for her 47 cats. She seeks a job that matches her talents. She finally gets a chance to deliver pizzas. Her broom helps her go faster than her competition. However, just when everything is going great, she is forced to make a decision that concerns a stray kitty. The time it takes to rescue this friend, could cost her the pizza delivery job.
Bruno the Tailor by Caralyn Buehner – Bruno the Tailor, decides to make himself a new apron. First he needs some fabric which he must find in his messy sewing room. Then he washes the fabric, hangs it up to dry, then irons it carefully. Bruno takes his measurements, makes his pattern, pins it to the fabric, and cuts out the garment. He bastes all seams and pockets into place, then sews the apron on the sewing machine. The beaver is very proud of his work. Illustrations are in colored pencil and watercolor. This is a great book that displays steps in completing a project. It even comes with a pattern so readers may make their own apron. A great book to share that describes the work of a tailor.
I Want to be a Police Officer by Daniel Liebman – Great photographs can be found in this book. Through photography, the book stresses the friendliness of police officers and how they like to help people.
Jobs People Do by Christopher Maynard – This is the book for helping children find out all about the careers that interest them. Entertaining text and photographs of real children dressed for each hob help youngsters explore 50 different careers, from chef to scientist. Pages also detail the duties and training required for each one.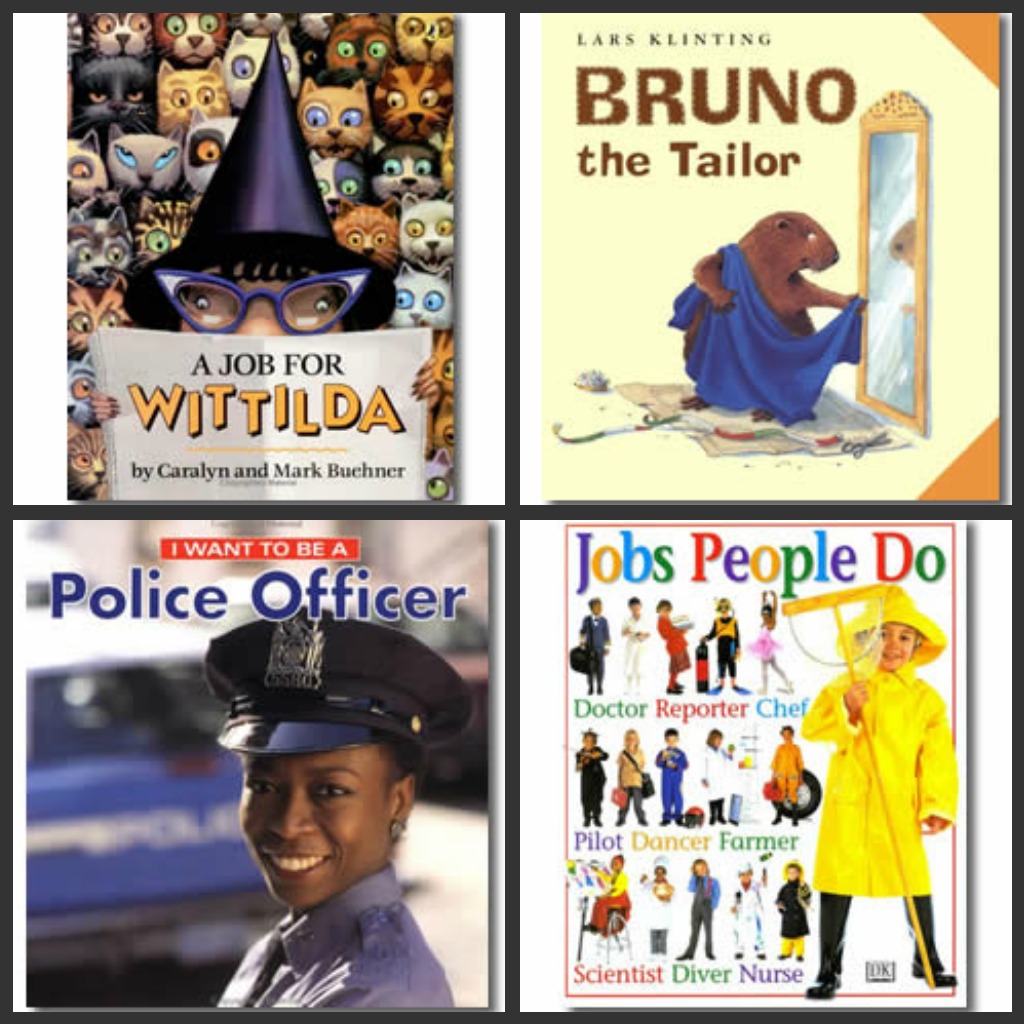 Community Helpers from A to Z (Alphabasics) by Bobbie Kalman
Fireman Small by Wong Herbert Yee
I Want to Be a Teacher by Daniel Liebman
Library Lil by Suzanne Williams
My Daddy is a Soldier by Kirk Hilbrecht – A wonderful book sharing how children view the military. It helps children understand what soldiers do for a living and how their living affects their family.
Officer Buckle & Gloria by Peggy Rathmann
Sam Who Never Forgets by Eve Rice
The Gardener by Sarah Stewart – Sent to the city to live with her Uncle Jim, Lydia Grace writes to her farm family about the big city. She makes friends with the workers at her uncle's bakery. Lydia tries to bring a little bit of farm to her new city home. She creates a garden on the roof of her apartment and turns it into a magical place – magical enough to bring a smile to her uncle's face – something that she noticed was missing when she first arrived.

Tortoise Brings the Mail by Dee Lillegard
Walter the Baker by Eric Carle
What Do Authors Do by Eileen Christelow – A great explanation to how books are made – from creation to production. It offers a humorous account of some of the ways authors get their ideas and how they put them in writing. Readers follow the complicated process of rejections, acceptance, editorial sessions, and rewrites. The process describes technical details about printing, layout, proofing, and binding.
What Do Illustrators Do? by Eileen Christelow
What is a Communtiy from A to Z? (AlphaBasiCs) by Bobbie Kalman
Follow this link for descriptions of all of these books.
Share these fun family ideas to celebrate Labor Day with other families by clicking the buttons below. : )
Possibly Related Posts: