I was seated in a red vinyl chair, one in a row of chairs, the kind you would have seen in a 1940's dinner. I was waiting for a customer and I knew one would come. One always came when my grandpa was away from the store. Yup, here came a tall six foot cowboy with a size 14 foot. I know his foot size because this was a shoe/boot shop my grandpa owned and right now I was in charge. I was 10 or 12 years old.
I had the tall cowboy sit down and I asked him what he was looking for, a fancy boot, a riding boot, maybe a steel toed work boot. Then I measured his foot on the old wooden sizer. I felt soooooo grown up. After all I had been measuring men's feet since I was about 8 year sold, every time my grandpa took a break next door in the Golden Spur Cafe. I had never yet sold a boot but I had shown a good many cowboys a good many boots.
Here is what I didn't know. My grandpa was sending those cowboys over to give me experience. Every day that I stayed with my grandparents in the summer time I worked in the shoe shop. Grandpa didn't sell women's shoes, just sturdy work shoes and boots. He also repaired them and the scent of glue and leather made the shop a wonderful place to be. My grandpa had only a high school education but he taught himself  a new trade  and then how to use that skill to create and run a successful business for many, many years.
At night I would find myself behind the counter in my Grandma's Sweet Shop. My grandma had only a fourth grade education but she taught herself what she needed to know to run a successful business for many years. It was right next to the theater and in those days there were no concessions inside the theater. You had to come to my grandma's Sweet Shop to get them. After the movie or the high school football game you could come in and sit down and treat your date to a lime ricky, an ice cream soda or a foot long hot dog with her famous and very secret sauce. Mostly I washed root beer mugs and ice cream dishes but occasionally I had the privilege of selling pop corn and candy. It was a delicious experience no pun intended!
My dad was an entrepreneur. I learned what that big word meant in high school but although I didn't know the word till then I knew what one was. It was a person who owned their own business; who kept the books and hired people and paid the bills and sometimes didn't get paid himself. I knew it was somebody who was always thinking up ideas and putting them into practice. He went back to school when his ninth child was born and got his bachelors, masters degree. But long before those days he had been a school teacher and had started and run numerous businesses. When he was a very young man he taught himself about refrigeration and then built and repaired refrigerators.
I learned about entrepreneurship and work by being involved with them from my earliest days. Entrepreneurship  was once passed from one generation to the next seamlessly. That is what shop keepers and tradesmen did, the potters, smiths, bakers, dressmakers, the tailors, butchers, contractors, grocers, etc. They passed on their knowledge and often included their children in their work. This call to work was part of the strength of my personal core phase. I learned to have an entrepreneurial sprit by living with people who had it. I passed it along to my children unconsciously because my example to them was of a stay at home mom who was always working on some venture or another. Many of our family perks came from those ventures.
I will never forget the summer my five year old Jodie set up a rock selling business. She collected rocks on the side of the road and went door to door selling them. She sold some too. Her next venture was a large cardboard box christened "Junky Jimbo's" (don't ask me where she got that name!!) on the corner of a busy street where she sold lemonade. And so it went with all of my children.
It is important to show our children how to work, how to think, how to ask good questions and how to bring more value to the world. Here is a book which I recommend that is a great example of what happens in an educational sense when a child has acquired good core values and has learned to love learning.  It is a great example of natural entrepreneurship.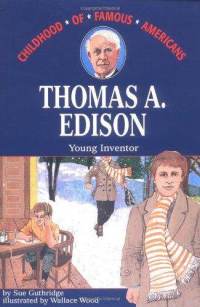 "Childhood of Famous Americans-Thomas Edison Young Inventor" by Sue Guthridge
Thomas loved learning! He was nine and a half when his mom pulled him out of school. He could not read yet. His mom inspired him by reading stories from history. Yup, that was her method of teaching him to read. She read to him. Thomas had a tower that he
would climb and pretend he wasColumbus seeing the shore line for the first time. He charged neighbors for the opportunity to climb the tower to be able to see the lay of the land.
In his teens he worked on a train. He worked on the train in the morning during the morning commute fromDearborntoDetroit. Then he would spend the day at the Detroit Free Library. There were over 3000+ volumes and he read every one of them. In the evening he would work on the train back to his home inDearborn.
At that time the telegraph was new. Thomas thought about this new invention and soon had an idea. When the train stopped at each town with a telegraph office he would run to the office, get the breaking news on the Civil War and then run back to the train, type set the news and then sell the information in a little newspaper to the passengers. He was definitely an entrepreneur!
I am grateful that my parents and grandparents taught me that I could create work. I have had my share of jobs and some of them have been wonderful. But whenever I needed money I knew I could come up with an idea, just like Thomas, that would bring me the money I needed. It has made a world of difference for me and my family.
Possibly Related Posts: