Service at Christmas
Before Thanksgiving, I set a goal for myself. I wanted to do service each day of December. That was a big thing to contemplate. But I felt determined because I wanted to increase my own joy and sense of happiness, as a gift to myself and to the Savior. "In as much as ye have done it unto the least of these my brethren ye have done it unto me." Matthew 25: 40
Then just after Christmas, I found a link that gives you one act of service to do each day leading up to Christmas day. Voila!
So my act of goodness for today is to share a wonderful story of family and tradition with you and a recipe that is over 100 years old. It is my favorite cookie recipe of all time. For those who are not gingerbread fans, this cookie is for you. Mild and delicious.
I have used it for gingerbread men and gingerbread houses. It works perfectly.
The Christmas Gingerbread Story
Ninety years ago Ann Gardner, my grandmother on my mother's side, taught first grade in Star Valley, Wyoming. In fact, she taught all of the grades over a 40 year period of time. She was known as a tough, but fair teacher. My dad, Verl Cazier, was in one of her first-grade classes!
One of her holiday classroom traditions was making gingerbread men with her students. Each child would get a large ball of dough. They would break that into smaller balls, for the body, head, legs, and arms. They would also get a square of cardboard. Each child would flatten the largest ball of dough in the middle of the cardboard square. They would then add the head, arms, and legs by doing the same with the smaller balls of dough. The 'man' had to fit in the square of cardboard with nothing hanging over. Then red hot eyes, mouth, nose, and buttons were pressed into the dough.
Each child would then carefully carry their piece of cardboard, with their gingerbread man, to the cafeteria to be baked.
When I was a young mom, making gingerbread houses and villages to pay for our families Christmas, I asked her for her recipe. She gladly shared it with me and the story of what she had done all those years before in her first-grade classes. Since then her gingerbread has graced many Thanksgiving tables, been given as countless Christmas presents and been shaped into numberless gingerbread houses and cookie people.
I hope that you will enjoy this recipe and pass it down to your own families. It is well over a hundred years old and you won't find a better recipe out there. : )
Ann Gardner's Gingerbread Man Recipe
1 cup shortening                                                          1 tsp baking powder
1 cup sugar                                                                  ½ tsp nutmeg
1 cup molasses                                                            ½ – 1 tsp cloves
2 eggs                                                                          2 tsp cinnamon
6 cups flour                                                                 (if you like a little bite, add 1/8 tsp
2 tsp baking powder                                                   cayenne pepper)
Cream sugar and shortening. Add molasses and beat until fluffy. Add eggs and mix. Add dry ingredients. When it gets too stiff to mix with a spoon turn it out onto the counter and knead until all the flour is mixed in. Chill one hour.
Roll out ¼ inch thick on tin foil. (If I am making a house I roll it out 1/8 inch thick because I want to cut down on the weight and bulk.) Lift foil onto the pan. Cut out shapes. Remove excess. Bake at 350* for 8-10 minutes. Remove from pan and cool on a flat surface. Enjoy!
If you want to try your hand at making a gingerbread house these patterns will get you started. The frosting recipe makes a huge difference too. Here is one that works every time. Be sure that you beat it until it is thick and stands up in peaks and then your house will hold together just right.
Royal Frosting (Meringue Powder)
This frosting is much easy to make and handle. Grease does not break it down and it can be re-beaten for later use. It can be stored in a covered container for up to 6 months. Meringue powder can be purchased at some craft stores and any store that sells cake decorating supplies.
¼ cup meringue powder               ½ cup water             4 cups or 1 pound powdered sugar
Mix the meringue powder and water…beat until it peaks. Add the sugar (1/2 cup more for stiffer frosting) ½ cup at a time on low and then beat on high to desired consistency. This will beat up a bit more quickly than the egg white version.
Royal frosting dries as hard as cement and dries quickly so keep it covered at all times with a damp cloth or in a tightly covered bowl. Keep any utensils, tip, bags etc. covered also.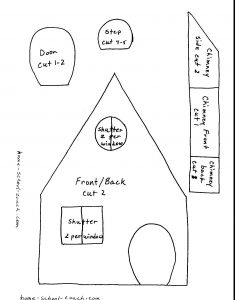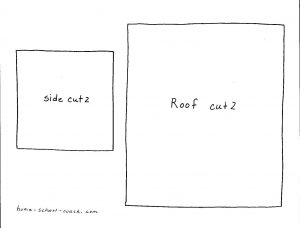 I experimented with transferring the pattern to a printed page. Right click and save photo. Paste it to Word, Publisher or a similar program. Size it to fit on an 8×10 sheet of paper and print. Cut out pieces, place on your rolled out gingerbread and cut around the paper pattern with a small, sharp knife.
For those of you that want to make a gingerbread house with your children but find the whole idea a bit intimidating why not check out this article which shows you how to do it with less fuss, mess, and intimidation. It works every time and I have helped thousands of kids make them from as young as 18 months old. They love the whole project and I have yet to have a child who wasn't over the moon about the results.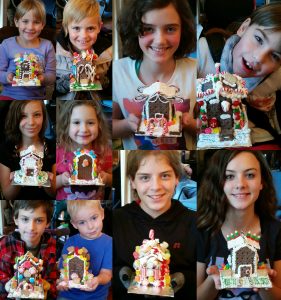 Each year our family makes these gingerbread houses as part of our
Thanksgiving tradition. You will see from the photos that each child house is unique and each one is pleased with the results. I hope that each of you has a wonderfully Present and connected holiday with those you love.
P.S. Why not take a peek at my new book which will be released May 2017 and get a complimentary chapter. The ideas you find will help you make that Present and connected Christmas a reality despite the business of the season.
Possibly Related Posts: