Peas are for eating and then spitting out if you are 19 months old! It doesn't take a tractor to till a box garden! Plastic bugs are more interesting than anything else and little boys have a hard time focusing when out of doors. These were the great lessons from today's Grandma School with the Traveling Closet on teaching children about gardening.
We went to our community garden. It is only a few blocks from home and we walked. Our garden is a box 18inches high and 12X10 feet long. The kids like to go there and help with the watering.
They have been excited to pick the peas and the strawberries. I wanted to talk with them a bit more about growing your own food and show them what was happening in our own garden. (Please note the information for working with older children at the bottom of the page)
Jack is three and all boy! I knew that I needed something to really draw him in so I had a terrific book about large gardens ie. farms and all the machines that it takes to ready the earth, plant and harvest. I asked Jack and Maggie if we needed a tractor to plow our garden. Jack laughed out his  "no grandma". We looked at the tools we use in our box garden and talked about them and what each was for. Then we read our book. After the book we created a tractor out of the letter T.
Unfortunately this is where grandma school began to unravel for Jack. He found a large plastic bug. He was so fascinated with it and kept washing it in a large bucket of water we had there for one of our other activities. Also there is a large pile of dirt by the gardens and it is so alluring to Jack. He kept climbing to the top. Let's just say that Jack was experiencing being in the garden!
Maggie who is a captive audience and is five was into all of it! She loves learning about everything. We talked about apples and did some apple crafts and activities. They have an apple tree in their yard. Are all apples red? Again Jack laughed out his "no grandma". We tasted a red apple, a yellow and red apple, a green apple and a yellow apple. They all taste different. Mary made sure her teeth marks were in every one even before we got to that activity.
We read the book "Apples Here" and then made a hand print apple tree. (See book list below)  Our trees didn't really look like hand prints. Maggie has a hard time straightening out her finger long enough to get paint and then press. Mary was excited and wiggled a lot. Jack, well Jack is a boy with his own mind and he thought prints were lame. He just smeared the paint around in a way that felt very good I am sure. We set them out to dry, washed off the paint in the bucket of water and glued our apples on later.
I then read them a book about growing pumpkins. We had been working at a picnic table at the edge of the garden up until now, in the shade. We headed over to our own box garden and I showed them the pumpkins we had growing there. They were very excited because the real plant matched the pictures in the book and the way the pumpkins were forming. I then showed them our honeydew melons which are growing really well and we ate some sliced honey dew I had brought.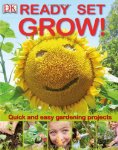 We ended by setting up three jars of seeds to sprout – mung beans, alfalfa, and lentils. The idea came from a book for older children which you and your children will love! It gives many, many ideas for children to grow food and flowers in off beat and very interesting ways as well as giving tid bits about successful gardening. Your older children will learn a lot about gardening by reading this book and doing the activities. No actual garden needed!!!
I found some other terrific ideas for older children which I just can't resist putting here even though we didn't do them.
Fun and Simple Tractor Crafts for Kids: 
Make a moving tractor from a 2 liter bottle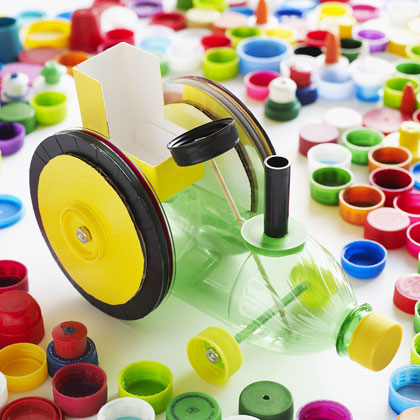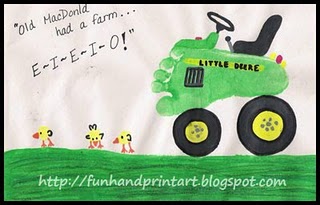 Macaroni Tractor (picture only, couldn't find directions)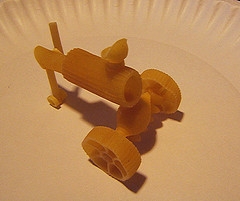 Books about Gardening for Children:
Ready Set Grow by Dorling Kindersley
The Pumpkin Book by Gail Gibbons
Apples Here by Will Hubbell
Lilly's Garden by Debroah Kogan Ray
Fantastic Farm Machines by Chris Peterson
Take a moment and share these fun ideas with other parents by clicking the buttons below : )
Possibly Related Posts: