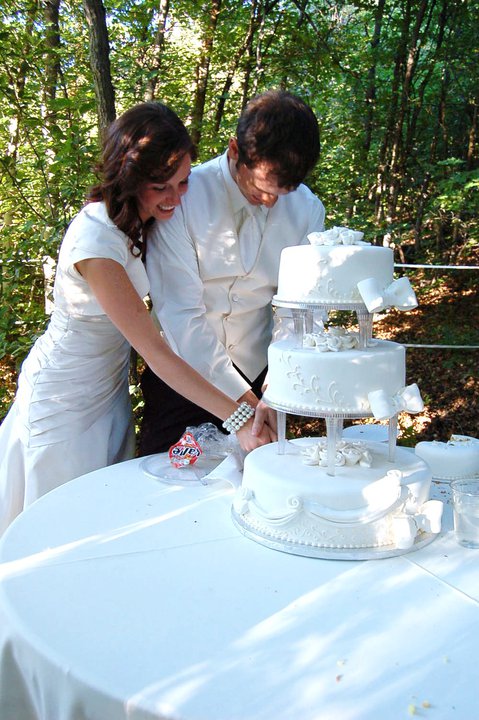 It is Wednesday morning and I am back. The wedding is over, the honeymoon is almost over and we can once again get into our kitchen! It was a fantastic wedding experience. The sealing ceremony in the early morning hours was peaceful, illuminating and spiritual. The setting up for the reception in the afternoon was crazy, wild and fun. The reception itself was a fabulous party with amazing food, wonderful friends and lots of laughter and dancing. We had a truly spectacular day.
It has taken some time to recover, however. The last few weeks leading up to the reception were intensely stressful. It wasn't anything anyone could have mitigated for us. There was just so much to do, so many details, and so many bills to pay! Yet we managed it all one day, in fact, one moment at a time.
The day of the wedding and reception so many things went wrong. Items that were needed were left home or missing (all the festivities were forty five minutes from our home). Important details, like where to store all the food for ten hours had been forgotten. Someone's pants didn't fit, a seam ripped…..well you get the picture.
After the reception everything was loaded into our two vans and hauled home. It was all unloaded in the living room and kitchen. YIKES! There was barely a walkway left. And there it sat for three days! I looked at it and knew that I ought to get busy and put it away but I was tired, really tired. So there it sat. Today though, the kitchen is clean. We can sit at the table and eat a meal. There are still some piles in the living room but I feel confident that by the end of today even that will be taken care of.
As I thought about this whole wedding experience it reminded me of the thirty nine years of parenting that Don and I have put in.
There was just so much to do. At each stage of our children's lives there was so much to do. There was homework (yes the first five all went to public school). There were meals, meals and more meals. The laundry was incessant. We had little league, piano lessons, football, dance, band concerts…….and on and on. It took a lot of money and we didn't have a lot of money back then. Sometimes it was so stressful because there was just no way to do it all and not enough knowledge to do it all well.
During those thirty nine years lots of things went wrong. We had our own baggage, our own fears and problems and we hauled them all into that marriage and child rearing mêlée. We were inefficient parents, foolish parents, and ignorant parents many times. We didn't know much when we started out. Consequently we wounded our children at times and didn't remember to take care of some important details. Some of our children got lost and had to be recovered. All in all it was a messy business.
However, on the day of the reception we had all seven of our children together in one place for the first time in quite a few years (Kate is the baby and the next youngest is 28) I had time to reflect on each one of them. No one is lost now. They are all beautiful, confident, loyal, kind, adults with amazing character. How did that happen? I am astonished and amazed at how these wonderful people came out of those thirty nine years of our growing up. But they did; just like an amazing and fulfilling wedding party came out of weeks and months of being overwhelmed, forgetful and just plain not on top of it all.
Last night Don and I began reading a wonderful book called Portal To Genius by Leslie Householder and Garrett Gunderson. On the back was a statement that I think really applies here – "…things will work out in the end, and if they are not worked out yet, it is not the end." David E. Palmer
I hope as you raise your families you will remember that. If it isn't all worked out yet, then it isn't the end. Keep working and learning. That of course, is what saved our children. Don and I did grow up, finally. We learned new things, tried new things and got better. So can you.
Read the classics on parenting, education, financial management, and love. Immerse yourselves in your core cannon. Find mentors who have been where you want to go. Remember the idea "you not them". The better you get the more you can give to them.
Begin by reading my guest blogger, Jodie Palmer's, four part blog on Family Mission Statements. Write one. Give yourself a map, something to shoot for. Don't just run around in the dark like Don and I did for so many years. We finally got a plan, understood it and began working it. It did make a difference. It can for you too.
Sometime in the future you will gather your family around you and you will be amazed at what came out of your learning, your practicing, your errors and mistakes. You will be amazed!!! So don't give up, get too tired to keep going or get discouraged. Rest when you must, regroup and then know that if it isn't worked out yet, then it isn't the end. You can do this and do it well. Just believe and have a plan.
Possibly Related Posts: