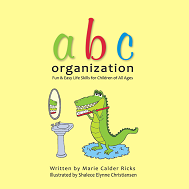 I had the opportunity recently to review a book called "ABC Organization". It was delightful to be asked to review ABC Organization by Marie Calder Ricks. I have not had this opportunity before in any official capacity and it was fun getting the book in the mail and then sharing it with my grandchildren.
Marie is a professional organizer, and teaches children how to organize. She understands how important
it is to get children organized as young as possible. Her latest book, ABC Organization, is aimed at the preschool age child and goes over the basics of organization.
In a fun and simple way this little book is a conversation starter so you can begin teaching your young child how to manage themselves and their belongings. It brings up some good food for discussion.
As I read it I thought that it would be perfect for giving any parent the information that they need to organize a series of good kid school lessons on organization and family solidarity.
Here is what I loved most about the book – the words. This is not your ordinary ABC book. It uses the most wonderful words, many of which will be new to your children. You can have a good time teaching them what each word means and then pratice "doing" the word.
This book was a fun way to look at organization. Each page is something that can be talked about, systematized and then practiced. You can find out more about the book and how to get a copy here.
Just for fun I thought I would share some wonderfully fun ways to get your children interested in cleaning, organizing and FUN!
Fun Cleaning/Organizing Ideas for Kids
1. Plan to have snacks and drinks on hand. Play some up-tempo music to keep everyone's energy level up.
2. Let everyone in on the fun. Preschoolers enjoy helping with cleanup, and can easily dust lampshades, books and tabletops, or line up CDs. Pair up an older child with a younger child.
3. Want to make room in the closets; why not have a fashion show? Put a big invitation in the Closet. Invite them all to be models. Have everyone try everything in their closet on. Whatever doesn't fit gets handed down to a sibling or packed up for donation. (Have some packing boxes ready to go.) This might also be a good time to have each child make a list of what clothing items they need. Have some simple note pads and cool pencils available in the Closet for some writing practice.
4. What about those messy dresser drawers? Have badges in the Closet marked Clothes Drawer Inspector. Have the children sort all the clothes looking for anything too small, out of season or in poor shape or torn. Do this on the same day as the closet cleaning and then have ice cream on the way to donate anything you aren't keeping. (You will see this ice cream reward being used more than once.)
5. Want to clean out the toy box and those toy shelves? Create a treasure hunt for your younger children by hiding chocolate coins or other small incentives among the toys. Send everyone searching for the treasures while collecting any toy found on the search. When each person's box, bag or basket is full have them meet in a central room and dump the toys in a pile. Now make a game of sorting into "keep" and "go" piles. Then find a permanent place for the toys that are staying. Maybe buy ice cream on your way to donate the "go" pile.
6. Maybe the cleanliness of the toys is the problem. Haul all the toys outside in baskets or boxes that need to be washed. Fill buckets with soapy water and let the kids have rags and soft bristled brushes. Plan to get wet. Line up the toys and spray off the soap. In your Closet have some empty squeeze bottles and when you are done cleaning the toys have a glorious water fight.
7. Book shelves need a good dusting? Give everyone a shelf and a time limit. Now race to see who can remove the books, dust the shelves and put the books back on the shelf within the time limit. Whoever makes it gets a cool summer activity page to work on. (I actually did this game with my grandchildren. I had a pile of about 60 activity sheets of all kinds. They loved it and couldn't wait to choose one. We did a number of jobs with the timer and they got a page after each job. They kept them in a colored file until we were done working and then they were free to work on their sheets. By the way I got them free from the internet and the Dover sampler.) Have the sheets in a bin in your Closet to introduce the activity for the day.
8. Do you have too many kids' papers and memorabilia hanging around in the bedroom and on the kitchen counter? Purchase a really cool, beautiful or corny box for each child. Put them in your Closet. Then have each child sort all their "stuff" and put what they are going to keep into the box. Have them label their box. You could add a few frames from the dollar store to your Closet so that as they find really special items they can be framed and hung. In place of the box you could use pocket folders which they decorate before the sorting activity.
9. Want to clean out that pencil drawer in the kitchen? Purchase some small baskets to fit the drawer or use a utensil holder. Let your children sort the pens, pencils and markers. Give your kids a piece of paper and let them test drive the markers and pens tossing away the ones that don't work. Buy some inexpensive pencil sharpeners at the dollar store and let them sharpen all the crayons and pencils. Throw all the broken crayons into a muffin pan and make some cool mixed crayons. Directions.
10. Make a "to-do" list that's clever and inspiring. Try a tongue-in-cheek menu of cleaning tasks, and let your child decide which jobs to tackle by ordering from the menu. For example:
Surf and Turf: Clean the garage, organize sports equipment, hose off boogie boards and surfboards, inflate basketballs and beach balls, and rake the lawn.
Hot Tamales: Clean the stovetop, dust the radiators, and empty the crumbs from the toaster.
High Tea: Banish cobwebs from the ceilings, replace burned out light bulbs, and dust the chandeliers.
11. Let your children chose wacky clothes for their cleaning outfit, the wackier the better. Give them a party hat to wear and blast some great music in the house. End your cleaning party with a treat.
12. If there is a lot of laundry to fold hide a prize in a sock and see who finds it. You can also do this with a room by hiding a prize in a hard to clean spot. These can be inexpensive items from the dollar store or even small amounts of money. You can also use coupons for a trip to the park, etc.
Books About Cleaning  for kids
Allie and Scratchy: Spring Cleaning by Keisha Fulton
The Berenstien Bears and the Trouble with Chores by Stan Berenstain
Cliford's Spring Clean Up by Norman Bridwell
Clean Up Time by Elizabeth Verdick
Arthur Helps Out by Marc Brown
Chicken and Cat Clean Up by Sara Varon
 Share these really fun ideas and a new book with your friends by clicking the tabs below. : )
Possibly Related Posts: