My sister was born on February 28th almost exactly two years after me. She has always been so happy to have been born on the 28th and not on the 29th. If she had been born on the 29th she would have been born on what is called Leap Day, or Leap Year Day. If she had been born on February 29th she would have been a leap year baby and would have had only had 15 birthdays and she is 60 years old! Why is that?
The reason she would have had only 15 birthdays in 60 years is because she would have been born in a leap year.
What is a leap year?
Every four years a day is added to the calendar. It happens in a leap year. Every four years there is a year with 366 days instead of the usual 365. Amazing! Why is that?
Why do we need a leap year?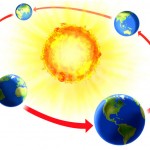 Leap year began in order to align the earth's rotation around the sun with our seasons. It takes approximately 365.2422 days for the earth to travel around the sun in one year. We know that a typical year has 365 days in it—but as you can see from the number 365.2422, a year is not exactly 365 days! So, in order to get "lined up", almost every four years, we give one extra day to account for the additional time the earth takes to travel around the sun.
When is Leap Year?
According to the Gregorian calendar every fourth year is a leap year.
For example 2008, 2012, 2016 are leap years.
Every hundredth year is not a leap year.
For example 1900, 2100, 2200, 2300 are not leap years.
Every four hundred years has a leap year.
For example 2000, 2400, 2800 are leap years.
Another way to tell if it's a Leap Year or not is by noting what day of the week the year starts and ends on. Every year January 1 and December 31(the first and last day of the year) fall on the same day of the week, unless, of course, it's a Leap Year. Leap Years only occur in years that show January 1st landing on one day of the week and December 31 on the following day of the week.
If your children are older this is a good time to learn all about the difference between the Gregorian calendar and the Julian calendar.
Leap Year Trivia
Even Decades have three Leap Years – Odd decades have two Leap Years.
In Ireland, every February 29th, women were allowed to ask for a man in marriage. A man was fined if he refused the proposal. In America this tradition is called Sadie Hawkins Day.
In 1988, TIME magazine proclaimed Superman to be born on February 29; therefore he is a Leap Year Day Baby!
Did you know the Titanic sank in a Leap Year?
Leap Year Trivia Books:
The Leap year book Written by Barbara Sutton-Smith
Leap Year Rhymes:
Thirty days hath September,
April, June, and November;
All the rest have thirty-one,
Excepting February alone,
And that has twenty-eight days clear,
And twenty-nine in each leap year.
—Mother Goose
Twenty-eight days has February
A very light load for one month to carry
The other months have 2 and 3 more
Thirty and thirty-one being their big score
In Leap Years the days they do vary
Making 29 days in February
– Raenell Dawn
Leap Year Party Ideas:
You don't have to be born on February 29 to enjoy Leap Day. It's everyone's extra day! So why not have a family party?
THE JUMP ROPE RHYME
Leap Year, Leap Year
When will you be?
Every four years
Then you'll see.
You want more?
We do too!
How many more
can you Leap to?
by Raenell Dawn
Play Leap Frog, an old pioneer game.
Find a Leap Frog – Buy some little plastic frogs (they are very inexpensive at Wal-mart and the like). Make up about 6 boxes of Jello following the directions on the Jello package, black works good. Put the frogs in a big Rubbermaid container and pour the Jello over the frogs. Tell the kids that the frogs are living in the black swamp and they have to dig in the dirt to find their frog. They love sticking their hands in the cold slimy Jello.
Have a Froggy Snack – Have cupcakes frosted with green frosting and have different jellybeans and decorations to make frog faces and red shoestring licorice for the tongues.
Leap Year Books for Children:
Leopold's Long Awaited Leap Year Birthday by Dawn Desjardins
It's My Birthday…Fianlly! by Michelle Whitaker-Winfrey
Leaps Day by Stephanie Bee Simmons
The Kangaroo Who Couldn't Stop by Robert Cox
The Pirates of Penzance, a musical by William S. Gilbert and Arthur S. Sullivan
The Pirates of Penzance, the film version with Kevin Kline, Rex Smith and Linda Ronstadt William S. Gilbert and Arthur S. Sullivan
It's Not Leap Year This Year by Michelle Whitaker-Winfrey
Mommy, Where's My Birthday! by Lakisha Cornel
Leap Year Young Adult Books:
Possibly Related Posts: