This is a yearly event that is so dear to my heart. Maggie is my darling granddaughter. Maggie's Month is the brain child of my darling and very inventive daughter. Maggie's Month is an opportunity for families to experience philanthropy at its finest. Read on for the chance to have some special experiences with your children.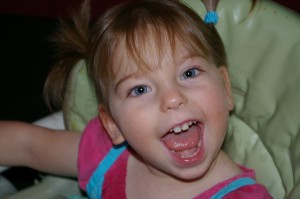 Hi, I'm Maggie! I'm 5 years old and I have a disability called Cerebral Palsy from a brain injury at my birth. I need your family's help to get a special therapy called Hyperbaric Oxygen Therapy (HBOT).
Because of my brain injury I can't walk, talk, feed myself, or even sit up by myself. HBOT has the potential of helping me walk, talk, and do things that I've never been able to do before, in fact, it's already made a big difference in my abilities. Heck, I know I could even go to college some day and have a family of my own. I want to be ready for that!
HBOT therapy is very expensive and is not covered by insurance. So, in 2010 my mom and dad had an idea that is really fun! They created a special annual fund-raising project called, Maggie's Month: A Family Philanthropy Project.
The idea is for your family to work together through Maggie's Month to raise the money to sponsor 1 of my HBOT therapies ($150). The funnest part is coming up with ways to work together so that everyone in your family can get involved. Our annual goal is to get 80 dives sponsored.
HELP MAGGIE
Family Philanthropy is a really terrific way for your family to work together to make a difference in the world.
So, here's what you do . . .
1. Visit my website and learn more about this project, get fundraising ideas, see fun videos of me, and to donate online. LIKE my Facebook page . Share these with everyone you can.
2. Sit down with your family and come up with lot's of fun ideas to raise the money to sponsor 1 of my dives ($150). Make sure you have some yummy treats while you're brainstorming. It makes your brain work better, and I know about brains!
3. Send my mom an email if you'd like your fundraising event listed on the Events page of my website. Her email is [email protected]
4. Complete your fundraising project and then send my mom a report of what your family experienced. We love pictures! She's going to post what families are doing and their experiences on my website. You can watch the dive chamber fill up with pledges at the bottom of my page. Send your emails to [email protected]
5. At the end of your fundraising event, get your family together to count all the money you've earned. Gather around the computer and together click the DONATE HERE button on my web page. Then give some cheers and go have more yummy treats!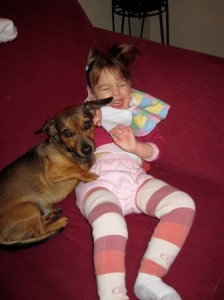 Of course, if you'd rather just sponsor a dive or a portion of a dive yourself, you are welcome to do so at any time on the DONATE HERE page of my website, or through my mom and dad.
My dog Odie Lew is really grateful for your participation, because he really wants me to be able to scratch his belly. Thank you for helping me.
Love, Maggie (and Ody Lew)
Possibly Related Posts: