This is the fifth article in a series of posts, starting at basics of using The Spark Station
WHAT IF I DON'T HAVE ANY MONEY?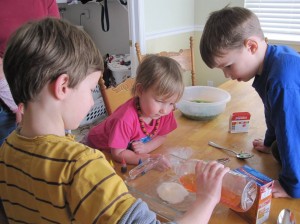 Don't stress over cost. Children don't care where stuff comes from as long as it's interesting. Use the library. Use a second hand shop. Scour your home for things of interest (remember those tubs of colored rice, and what about beans and macaroni for a collage?). Make your own educational items (i.e. flash cards).
Let your children help you. They rarely care if it looks like it came from a store. So your 12 year old can make picture cards that your 4 year old will love. Use the internet. You can down load pictures to color and find oodles of ideas. Go to a print shop and ask for paper scraps. You will be amazed at the great paper that gets thrown away. Go to a lumber yard and ask for odd pieces of 2X4. Then let your older children sand and paint so your younger children have blocks. Consider the activity of filling your Spark Station part of the options within The Spark Station.
FOR MORE DETAILED INFORMATION:
How to Home school At Low Prices
Possibly Related Posts: