My name is Amy Walker.  I am a certified Body Language Expert and Executive Program Director for 3 Key Elements.  Body Language is an extremely important part of communication.  Did you know that 93% of communication is NON-VERBAL?  That means your tone and gestures are saying far more than your words!   In the last year, I have seen a huge growing interest from schools and parents on how to use body language to help kids perform better in school.  I have personally trained for the Utah State Office of Education, the Department of Workforce Services teen program,AmericanLeadershipAcademyand other elementary/ charter schools.  Already for 2012, I am scheduled to teach over 900 teachers all about body language.  I know I use body language with my four sons on a daily basis!  It is such a powerful tool to increase communication, trust, understanding and learning.  In this 2 part article I hope to teach you the importance of Body Language and some examples of what to look for with your children.
Body Language is the body's physical response to what is going on in the subconscious mind.  As you study and understand the bodies unique language you can gain insights into thoughts, learning patterns, emotions and motivations.  If you understand the whole picture you will be more effective as a parent and as an educator.
The conscious mind can hold onto about 7 thoughts at a time.  The Subconscious processes billions of things all at the same time.  Every memory, feeling, idea, body function all the way down to cell reproduction and breathing are taken care of by our subconscious mind.  I am constantly fascinated by what I can "See" going on in my children that they don't even know how to express!
I'd like to teach you 5 basic gestures you can use TODAY to help increase communication with your children!  Remember Body Language is a LANGUAGE!  It takes practice to become fluent!  But hopefully after this article you will at least know a few "Words and Phrases" to look for!  I will also provide a few examples of how I use this with my children.
Learn to read eye movements:
Eye movements are fascinating.  As you watch a person's eyes move, you will be able to see where they are going to access information inside of themselves.  You can tell if the experience or decision is emotion driven, influenced by others or based on past experiences.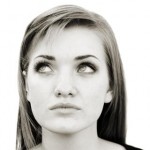 Movement 1: When you see an individual look up and to the right, they are looking into the right side of their brain.
Right Side Brain Functions:
Big picture thinking
Future
Creativity
Artistic
Imagination
Vision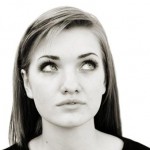 Movement 2: When you see someone look up and to the left, they are looking into the left side of their brain.
Left Side Brain Functions:
Linear Thinking
Details
Logic
Facts
Numbers
Past Experiences
Example 1: My 9 year old son was upstairs doing his homework.  He came downstairs and I asked, "Did you finish your homework?"  He looked up and to the right and then said, "Yep!"  So I clarified and said, "You did?  You finished your homework?"  He did the same move and answered yes again.  Now I had seen the same move twice and knew I didn't just imagine it!  I had asked him a question that should have caused him to look into his past and into his detail section.  Instead he looked into his big picture/ creative section of his brain.  I realized clarification was necessary, so I asked, "So what did you do?"  This time he answered, "I did my math" and looked to the left.  That answer matched.  So I clarified again, "What else did you need to do?"  Looking a little less excited he looked down and answered, "My spelling."  His body language told me that not only was his work not entirely finished, but also why it wasn't finished (Stay tuned for what looking down indicates!).  Rather than an argument the next day about why homework wasn't finished when he said it was, we were able to clarify and I was able to see that he needed extra help and support.
Please come back on Monday for the last 3 eye movements.  They are a vital part of understanding how your child feels and what influences are going on in their life.
Amy Walker is a Wife, Mother, Trainer and Mentor.  Amy has been married to her husband Stephen for 11 years.  Stephen and Amy met at Brigham Young University and after a year and a half of dating; they were married in Portland Oregon.  They have four sons ages 9, 6, 4 and 7 months.   As a family they love to play together.  They enjoy movies, playing tennis, going to parks, the Nicklecade (Amy hates it, but everyone else thinks it's great!), and having picnics.  They are also all book worms and LOVE to read!  Amy has to be judicious about starting a new book because she is so obsessive she will go without sleep until the book is done!  She also loves music and has played the cello since childhood.
Amy graduated from BYU with a degree in Linguistics and a minor in Teaching English as a Second Language.  During College she lived and taught English in Russia.  She also taught ESL in the public schools.  She has a love of foreign languages and cultures
Amy is the Executive Program Director for 3 Key Elements.  She does body language trainings for corporate and private groups.  One of Amy's favorite parts of her career is working with her personal mentoring clients.  She loves watching people transform their lives and move forward towards their dreams.
Possibly Related Posts: