This is the third article  in a series of posts, starting at basics of using The Spark Station
IF I DON'T HAVE AN ACTUAL SPARK STATION WHAT CAN I USE?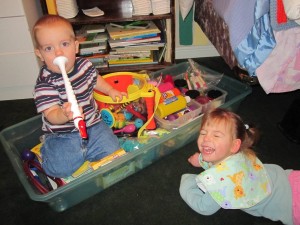 What if you don't have an actual closet? There are numerous alternatives and I bet some of you will come up with things I didn't think of. Your children haven't heard of The Spark Station and so they don't have any expectations of what it should be like. Maybe it will be shelves on the wall, large plastic tubs or shallow ones that roll under the sofa, rolling luggage or an old dresser, maybe a plastic shoe rack on the back of the door. Find something that will work and then use it.
"I have always been waiting for that perfect day in a perfect world when I had the perfect Spark Station…which day was not coming anytime soon! After going to your class, I threw together some fun things in some clear Tupperware containers, and voila! Our temporary Spark Station. How liberating! It was wonderful! We had a great school day together." Elizabeth L.
FOR MORE INFORMATION:
Drop in at Creating a Magical Environment for Learning Fun
Possibly Related Posts: