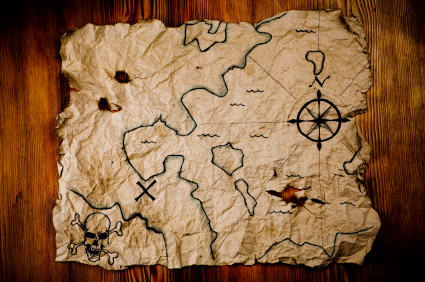 Now let's move to the office.
1. Of course in this room I will find many things to add to my junk box and my arts box. There are paper reinforcement circles, a paper punch, stapler remover, stapler and lots of staples, sticky notes of all types, sticky page markers, highlighters, pencils and pens of all types, plain paper, tag board, construction paper, lined paper, note books, folders, index cards, scissors, tape, glue, calculator, assorted stationary, note cards and envelopes, name badge labels and tags, to name a few items.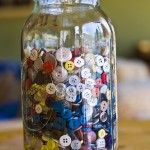 2. There is a jar of pennies. Pennies and loose buttons are great for creating pictures and scenes right on the floor or table. My children loved sorting the buttons into colors. They also liked putting the pennies into chronological order.
3. There is a box of family pictures to sort, mount and label in books
4. A check book from a closed account
5. An outdated planner
6. An unused address book
Let's check out the bedroom (Mine, not the kids. Never put anything in the closet that belongs to a child without their permission):
1. My sewing box – Many items in here can go into a box for children. Large needles, stray buttons, thread, material scraps, etc.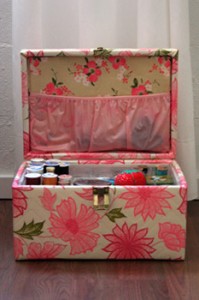 Children as young as six can learn to baste, cross stitch and sew on buttons.
2. Old socks – these could be added to my sewing box along with a book on puppet making,
3. Ace bandages, old stethoscope and Band-Aids. A thermometer.
4. My old scrapbooks and year books from school.
5. A collection of glass, rock and wooden eggs from all over the world. I would add a globe or map so we could locate where they came from.
6. A broach and a bolo tie made with Alaskan Scrimshaw. A book would go with this about scrimshaw and also information on the Inuit and Alaska.
7. An antique watch from an ancestor. This would make a good story time item.
8. A dish of large salt crystals. I would add the supplies to make crystals both salt and sugar. A book on crystals would be fun. These large salt crystals were made for the bath. You could help children make perfumed salts for their baths.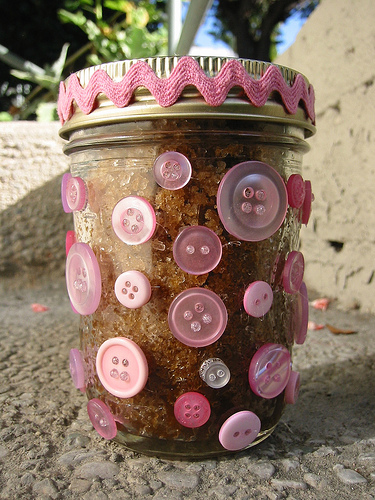 Simple Scented Bath Salt Recipe
• 16 ounces all-natural bath salt
• 15-30 drops of essential oil
In a mixing bowl, add drops of the essential oil to the bath salt and mix well. Store bath salts in a jar. Add 1/3 to 1/2 cup of the scented salts to a bath for a soothing, luxurious experience!
9. A guitar is in the corner. I would find someone who plays and invite them to school on the day I added it to The Spark Station or the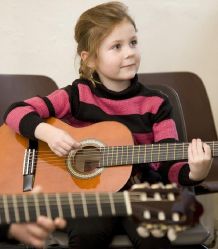 study/family room. I would add a CD of guitar music from the library.
10. Old shoes that someday I was sending to the thrift store. Great for imaginative play.
11. Old jewelry that I don't wear anymore. Also good for imaginative play.
12. Two beautiful, sequined boxes which I thought I would use but haven't. Who knows what a child might find to do with these.
Finally let's check out the bathroom. Even here I found some items to add to my junk box:
1. cotton balls, Q-Tip swabs, small paper cups
2. small round mirrors
3. A medicine syringe. I would add my turkey baster and a plastic tub of water for some real water fun.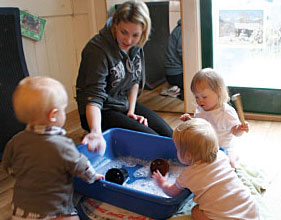 4. A beautiful barnacle and assorted shells. I would add a book on the ocean, shells and sea animals and fish. If you have small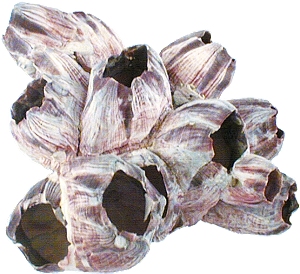 children let them touch the shells while you talk about them. Show them the pictures of sea creatures. Have some plastic fish etc. that you can add to their bath or for play during family learning time.
Take the time to go through your home room by room and find wonderful items that you can use to inspire your children. Take the time to create a magical learning space for your children. It doesn't take money; it takes thought and a little time.
Be sure and check out Part 1 [Creative homeschool ideas for making learning fun] and [Treasure Hunt your house Part 2]
Possibly Related Posts: