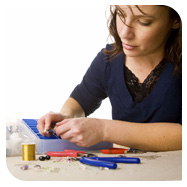 One of the great things about working with families is seeing all the different ways that parents inspire and teach. One mom is so talented. She makes the most beautiful jewelry. It is not run of the mill! It is unique and takes time.
When I went to their home for the first visit we talked about The Sprk Station and school and all the things I was there to see. When it was time to go, she mentioned her workshop and being a very creative person myself I really wanted to see it. I had noticed her earrings earlier and thought they were just beautiful. When we finished with her workshop her 10 year old daughter asked me if I would like to see some pins that she had made. Her mom had taught her how to make them out of scraps of material, yarn, feathers, etc. I was astonished at how professional some of her pieces were. She had also created head bands and hair clips.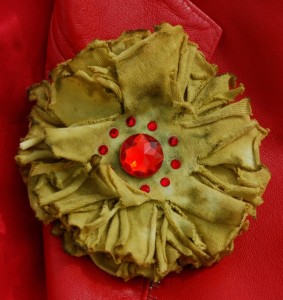 I was impressed that her mother had taken the time to inspire her daughter, share a talent and help build her confidence. Anytime we learn something new it builds our self confidence. It tells us that we can!
On my last visit I took a friend to do some videoing for me. She was involved with a fund raising project to help a student in Africa attend George Wythe University. Being on the ball as any good fund raiser would be, when she saw the jewelry that the mother was wearing she asked about it. Then she asked if the mom would like to donate a few items to the silent auction to raise the funds. Being the generous soul that she is she readily agreed.
However, here is the crux of what I want to say today. Without a pause she said, "Would you like to see what my daughter has made." She included her daughter in the opportunity to shine. The fund raiser was impressed and asked the 10 year old if she would like to help raise money for the student. The 10 year old was so excited. What a feeling of accomplishment to be asked to participate in the same way as her mother.
It is wonderful when we can inspire our children, share our talents with them, help them excel and then involve them in service. This is one of the aims  of leadership education, to gently lead children into new areas of learning so that they can find their own talents and strengths; so that in time they can repeat what you have done, raise a leadership generation.
You can use The Spark Station to help you do this. If you want your child to play the piano introduce it to him. Don't require that he learn it. Take him to a concert. Visit a piano store. Invite a friend over who teaches piano to give a little concert in your home. Put a CD of beautiful music in your Spark Station. Add a book about great composers. Dover has a coloring book of great composers. Use your Spark Station and the other educational tools at your disposal to inspire not require. The end result is that your children will love learning. They will feel confident in trying new things. They, like my ten year old friend, will discover their strengths and will gain self confidence. When that happens they, like her, will be given opportunities to serve.
Possibly Related Posts: