Life Principle Three: Make It Special
Mail, mail and more mail! I get LOTS of mail. I get mail about every kind of parenting, schooling and family situation that you can imagine. Let me share one with you today, and the answer, when understood, can increase the enthusiasm and excitement of your children, for just about everything, whether you homeschool or not!
"…We resumed [using] our Spark Station recently and it's going spectacularly! Well, I put something in there this morning that my 10 year old LOVED! It was a book and supplies to learn cross-stitching. She only got three stitches into it before we had to put it away to have lunch (after de-tangling miles of thread and learning how to use the needle, etc.)
Well, we had science class to go to after lunch and so it was no biggie to put everything away. But I know that when she returns she is going to be really frustrated to not work on her project. Is there EVER an exception to pulling a project-in-progress out of the Spark Station for a child to use continually? Pam C.
Kids GET IT!
There are five principles which make the Spark Station work really well both as a home school tool and as a tool to help any family have some great fun and connection time together. This letter speaks to the heart of principle three: Make it special.
In relation to the Spark Station, the goal is to make it a special tool, used only at certain times, consistently, that kids
can count on. In the words of one dad, "It's like Christmas. The excitement stays because it isn't available all the time. It is amazing!" Mark G.
Kids may seem really disappointed or frustrated when they can't use something in the Spark Station when they are bored or have free time. They may beg and even pout but really, they get it. Here is what one twelve year old said when I asked her what it was about the Spark station that she liked the most.  "Well, when you are working on a cool project and you have to stop, you are excited about getting back to it the next day."
This applies to everything in the Spark Station, from learning to sew, to a math workbook. I have seen it work hundreds of times. It works with things that are brand new to your children, such as supplies for cross stitch or calligraphy or wood working. However, it works just the same for things that have been available to your kids for ever, flash cards, games, books, etc.
For example, one young girl asked her mom to put a geography game into the spark Station. It had lain unused on her floor for over a year. Her mom reminded her that if it went into the Spark Station it would only be available for a short time each day, when the Spark Station was available for her to use. She still wanted it to go inside.
Guess what happened? She and her ten year old sister and eight year old brother played it every day for a week! As I said, and as the dad, Mark G. said, "It is amazing!"
I have had people take books off of their own library selves, that their children have had access to for years. The minute they are put into the Spark Station the kids want to read them, as if they have never seen them before. I have seen parent's put workbooks in the Spark Station and you know what, kids start using them because they can't use them any other time.
Back to the Ten Year Old and Her Cross Stitch?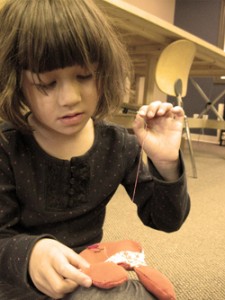 Let's return to our ten year old and her cross stitch. There are a couple of other reasons to keep the project in your Spark Station for a while. Remember the miles and miles of thread you unraveled in the morning. She is still a learner and there will be miles more to untangle. If the project is in the Spark Station, then when the project is available, so are you. That is another tip that makes the Spark Station work. It is only available when you are. Then your daughter isn't bringing you a wad of tangled thread when you are up to your elbows in dough, changing a dirty diaper or separating two squabbling siblings.
Another positive of keeping a project in the Spark Station for a while is that it is safe. It is safe from inquisitive two year old siblings, interested six year old sisters and teasing twelve year old brothers. While she is learning you are keeping her project safe.
Here is another way to use the principle of make it special. Go get a pretty little box for her to store her hand sewing in. Put the box into the Spark Station in the next day or two. When she sees it she can put her sewing inside and now it comes out of the Spark Station and goes into her room and it is hers. She has learned something new. She was really enthusiastic about it. You and she had some great boding moments. She felt your love, warmth and presence. That is what the Spark station is all about. The whole learning experience feels special.
It Doesn't Matter How Long an Item Stays in the Spark Station
It doesn't matter how long an item stays in the Spark Station. Just having it in there for the first time makes it interesting and inspiring to a child. After a day you can take it out and it becomes part of every day life. You could leave an item in for a week or a month and then it comes out. That is the case with the sewing. When you get home tonight you can let her have it but… it doesn't go back into the Spark Station. Its Spark Station life is over and you put something else in its place.
I love the principle of "Make it Special". It works to add more joy to the ordinary and mundane things in life.  It works at bedtime, family night, family dates, vacations, bath time, in many ways. If you want your family to buy into a system, activities or even chores, then make it special.
In fact, next week I will post some ideas to make cleaning with your kid's fun! Now go make something special!
Know someone who could use a little "special" in their families life, use the buttons and share. : )
Possibly Related Posts: