On Wednesday evening I gave Part three of a four part webinar on The Spark Station. I had given out assignments the week before and had asked one couple to share their experience with the assignment. The mothers report turned out to be the highlight of the evening, in my opinion.
"Last week's comment about "changing your attitude about kids" really hit me.  Mary said to look at them in a different light; like they aren't just "work" or a "huge responsibility", rather they are fun and have so much to offer.  In addition to really trying to work on being "present" this week, it seems that the "sparks" are coming to me with more ease and are more obvious. Instead of my boys sitting in Sunday interviews with us, saying "I don't know" to every question we ask, they are starting to open up more.  But the real miracles happen when I/we as parents just "change our attitudes" about our kids.  I realize as I tried desperately to begin to change my attitude, that their ideas and play really are "sparks" and not just another big mess I have to clean up!
I should have seen this particular spark coming for a while with my oldest son Miles (age 8).  He loves rocks.  He loves gemstones. He loves crystals…you name it.  Rather than being a nag all the time and telling him to pick up his rock collection, I realized this is what Mary is talking about – it is a spark!  And geez – I can't believe I didn't realize it before – but these sparks really can turn into big burning flames and that is what I want for my kids, right?
After I realized I had a spark to go on, I wasn't sure what to do next?  It started when Miles and I decided to come up with an
organizing system for his rock collection.  We sorted and I 'ooohhed' and 'awed' at much of his collection while practicing being present. We went to the Clark Planetarium and really spent some time looking at rocks; particularly those on the moon's surface and then meteorites.  As luck would have it, this past Friday while we were at the Drive In,  a shooting star (meteor) came burning into the sky and appeared to be as close as across the parking lot. That's all we talked about all the way home.  We didn't talk about the movie at all!  We began planning an adventure to see if we could catch a meteorite at the next meteor shower on Aug 12th!  It was so fun to see the excitement – not only in Miles but also in his little brothers and his friend who was with us – and now ME!  I was catching on fire too – so to speak.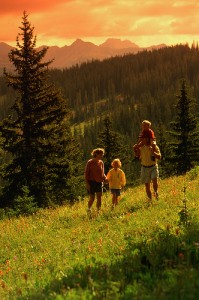 We then watched a Bill Nye (science guy) video all about the earth, which sparked so many more thoughts.  We went on a nature hike to collect and view as many cool rocks as possible (which lead to patterns, and shapes and even statistics).  But the greatest thing for me is that we were able to bring all of these things we were learning together and direct them back to God (and for my school I want as much God application as possible).  I can't ignore the fact that because our hearts had good intent, we went into this with prayer – asking for guidance, that these avenues are opening and our eyes are seeing more clearly
We have an appointment Thursday afternoon with our neighbor who is the LDS church's geologist!  We get to come and ask questions, have him show us his rock collection and continue with more sparks!
Miles isn't a very animated kid, so sometimes it is hard to know if we are even on the right track with him.  But all of this was reaffirmed last night at dinner.  We each go around the table and say one thing we are grateful for.  His cousins (who live with us right now) said little things like being grateful for the earth and for nature (so it seemed that they may have been picking up on some sparks too).  The big clincher was when Miles said he was grateful to have a neighbor who is a geologist who he can learn from!  Yea hoo!  We are on the right path – and it was all because of sparks!"
I have to tell you that that letter really warms my heart. I have written a couple of articles on the subject of "seeing with new eyes". When we are raising children life can be so hectic. We can get so caught up in maintaining and keeping order that we forget to see our children. We miss their "sparks".
If the term "sparks" is new for you then follow the link and read all about them. Basically, they are a comment or action made by a child that helps you know what they are interested in.
What changed for this mother? Her son had not changed. His rocks were still all over the place. What changed was the attitude of the mother. She looked at her son as a person and asked a simple question – "You really love your rocks don't you?" His answer was no surprise. He did love his rocks, and gems and crystals and all things that belong to the earth. At eight years old he has found something that he wants to know more about. Once she could see past the rocks and the mess, to the son, she was able to respond to his "spark". What happened then was pure magic!
What was the magic? It was joy. They began to experience joy together and as a family. Sometimes I think that we believe that joy 
happens when life is calm and good, when money is plentiful, when we are having fun. But true joy happens in the everydayness of relationships that matter. The relationship between this mother and son has taken on some magic and is tinged with joy.
There is more magic here too. It is magic when we hear, really hear what children say. They are amazing little people with thoughts, feelings, questions and desires that are different than those of adults. What a child says can be so enlightening, so entertaining and so thought provoking. It makes me think of my two year old grandson. One day he was marching around the living room saying "Stop that! Now I have to take that away. Stop that! Now I have to take that away." Good grief! It gave his sweet mother a big reality check. Then a few nights later as he was going off to sleep he was repeating what he had heard his mother say over and over again, "Daddy loves you, daddy loves you, daddy loves you."
In order for my daughter to hear, really hear, she had to see Jack as a person. She had to see past the huge mess that he was marching around in the living room. She had to see past the fact that it is bedtime and he needs to be quiet. Leah had to see past Mile's rocks and their mess to hear her son, to hear that he is in love with the earth.
It is fun to watch a child "get" something new. I was watching my 5 month old granddaughter recently. I was really watching her. I was present with her. I was interested in what this little person was thinking about. She began to observe her hand. She was completely focused on it as if she had never seen it before and wanted to know all about it. She was fascinated with her fingers, their movement. Because I was "listening" to her I too began to think about the majesty of my own body, my own hands that can do so much for good. If I had only focused on her dirty diaper or her drooling mouth or her need for food I might have missed out on that remarkable "conversation". Leah and her family experienced that "fun" as they watched Miles learn about meteorites right there in the Drive Inn parking lot.
Miles's parents, his mentors, are uniquely able to direct, guide and help Miles to get the information that he wants. He is only a small boy. The resources at his disposal are far more limited than those of his parents. His neighbor hadn't just moved in. Leah and her husband knew what his job was, what his knowledge entailed. They knew. But Miles wasn't as able to approach the neighbor to have his needs met as they were able to approach him.
Miles needed a ride to the Planetarium. Maybe he didn't even know what a planetarium was. His parents know more about meteorites than he does. They were able to engage their son in a "familiar conversation" about meteorites. As George Turnbull said "By familiar conversation, children's curiosity may be roused much more effectually, and by it they may be taught a great deal more in a little time, than can possibly be done in the austere magisterial way of calling them to a lecture." In short, a spontaneous conversation between parent and child teaches more than the best lecture. Miles has learned more about meteorites and rocks from a family outing and a conversation with his parents than he would ever learn, really learn, from a textbook or reams of worksheets.
Here is your assignment for the week. Just look at your children. See them not the spilled milk, the messy face, the unwashed hands, the cluttered bedroom. See them. Hear them. What are they saying? What are they "sparking" to you? Be a mentor and help them experience joy. Allow joy to enter your busy life as a parent and your relationships with your children. It will lighten your burden and help you carry the load.
Possibly Related Posts: