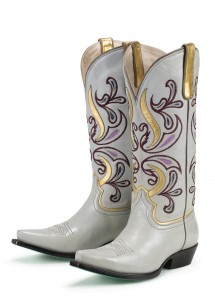 When I was ten years old I went to stay with my grandparents for two weeks. They lived in a very small town in Wyoming. I went for the express purpose of earning enough money to buy a pair of cowboy boots from my grandfather who owned The Shoe Shop. They were white with gold decorations. They were the most beautiful boots in the whole world and I had coveted them for many months. I envisioned myself as an accomplished horse rider in my beautiful boots, even though I was, basically, a city girl.
The Shoe Shop was on Main Street. It wasn't really a shoe store although that was its name. It was actually a boot shop because that is what he sold and repaired most. He catered to cowboys and farmers.
I was only ten that summer. However, I would go to work in the morning with my granddad and he
would put me to work sweeping up and dusting the rows and rows of boot boxes. In the early afternoon he would leave the shop and go next door to the Golden Spur Cafe for a break. He would tell me that if anyone came in I should measure their feet and then help them try on the boots that they were looking for.
Sure enough one or two cowboys or farmers would come in. I would ask them to sit down and measure their feet. Then I would ask them what type of boots they were looking for. Did they want cowboy boots or work boots. Did they need steel toes? The cowboys would try on a few pair, thank me for my help and then head out. I was proud of my ability to do this important work with adult customers. It wasn't until many years later that I learned that my grandfather would send them over. He was teaching me how to work by letting me work, despite being only ten.
My grandfather would occasionally say, "Any darn fool can run water down the swails and gullies, I want to see those brown spots turn green!" I learned through example that what he was talking about was doing better than just good. He wanted us to do our very best even if it took more effort.
My grandfather wanted to teach his grandchildren about the value of a good work ethic, the importance of a full effort in every task, honesty in our work and how to deal with people in life and in the work place.
When I think about my grandfather letting me work for him I think of a wonderful quote from Oliver DeMille in the classic book, Leadership Education: The Phases.
"A good Core Phase naturally provides the foundation for a good life, a great Core Phase for a great life…"
As we think about children ages 0 through about 12, the foundational period, it is important to remember that they learn more by what we are, the environment we create and the feelings that surround them than through the things we are teaching or the activities they are engaging in.
My grandfather didn't have the foggiest idea about Leadership Education or the Phases. What he did understand was that children need to be loved, they need to be inspired, they need opportunities to work and to obey and they need to have values modeled for them. My grandfather understood that what we saw and felt would impact us far more than anything he said to us.
Play is a huge part of Core Phase. As Maria Montessori taught, a child "Learns everything without knowing he is learning it, and in doing so passes little from the unconscious to the conscious, treading always in the paths of joy and love." Work is another essential part of Core Phase. The time children spend learning how to work and obey parents rules provide valuable lessons they will use in many circumstances (including later academic work) and through the rest of their lives.
The summers I spent working for my grandfather were play and work. I played at working like adults work. It was fun. My love of work and learning were strengthened during those summers.
Children in core phase should be instructed and trained in a gentle, loving manner. It should be constructive and positive. During this foundational phase there are critical abstract lessons that need to be taught. This is when children feel and observe the answers to deep questions such as: "What is success?" "What is maturity?" "How do I resolve conflict" "What is my relationship with God?" "What is my relationship with others?" "What role does money play in life?" "What is home?" "What is my duty?"
We want our children to read and write and chiper. My grandfather wanted that for me also. But he took the time to help my parents provide a firm foundation of understanding about life and how I fit into it so that I would be capable and able to go forward on my own and learn all those important academic lessons. I did learn to read, write and cipher. But I am most grateful for the sound values which were transmitted to me in kind and loving and practical ways by the adults in my life in those early and foundational years.
Possibly Related Posts: