I wasn't feeling well. I spent most of the day sleeping, on and off. When I got up at 6:30pm I realized that the Spark Station was going traveling at 10:00am the next morning. I also realized that I desperately wanted to go back to bed.
When I find myself in a place where I need quick inspiration I head for the book shelves. I began doing a search and found my favorite Mother Goose nursery rhyme book, as well as two others that had nursery rhymes. I wondered if I could come up with some nursery rhyme activities. So off to my trusty computer to get some nursery rhyme ideas. Below you will find what wonderful and inspiring nursery rhyme themed content the Spark Station held for Jack, Maggie and Mary, as well as a few ideas we didn't get around to using. ENJOY!
Of course the first things to always come out of the Spark Station are the books. The children really love them. We sat on the floor and began to read some of the rhymes. Jack knew a few and was very happy to perform them for us.
Then because we were running a bit late (we have to be done in time for Maggie's therapy) we went right to lunch to make sure we got that in! I had found some wonderful Mother Goose lunches. I have shown you the original ideas and then how we modified ours to fit the children's tastes as well as what we had on had. (I really believe in keeping it simple. I don't run to the store, I make do!)
As we ate lunch we read more rhymes, again with Jack performing a few. We talked about Mother Goose and where the rhymes came from. If the children were a tad older I would have shared more about the origin, etc. We talked about the goose that she rode and then we made one.
I had prepared a few toilet paper tube puppets and we acted out Little Bo Peep, Mary Had a Little Lamb and Baa Baa Black sheep. (Of course a little girl lived down the lane because what we had was a sheep and a girl puppet.)
Then we all made a Humpty Dumpty Finger Puppet so we could recite and act out our lunch. There were so many nursery rhyme craft ideas. You  could never do them all.
That was really fun. Jack and Maggie loved making the puppets dance. If Humpty never danced before he did on this day!
I found some wonderful nursery rhyme coloring pages which we saved for the next day. The assortment available was truly wonderful. If you have no book of rhymes then print off the pictures because older children might want to color a number of the pages and make their own Mother Goose book. (google  images – Mother Goose coloring pages)
Nursery Rhymes use days of the week, months of the year and colors. I'm sure you can figure out how to use those. : ) You can do some counting with nursery rhymes. Cut out a large boot or shoe and let the child draw how many children the old woman had.
We did some sewing on a Styrofoam plate. We made a spider web with a big spider and recited Little Miss Muffet. We also talked about how many legs spiders really have. As you can see Jack found it challenging to find room for eight legs!
I also found a wonderful recipe for Mother Goose  pop corn. We will be making that to eat while we watch a movie as a family.
Learning Mother Goose rhymes if you live in America and Europe are part of cultural literacy. I am always amazed at how many adults I meet now who are not familiar with very many. People seem to have  stopped reading them to their children. However children love the cadence of the rhymes, the simple concepts and the plain old silliness. They are easy to memorize and so they can be performed by very small children. In fact just a few days later I was at a church talent show where a 5, 4 and 2 year old all performed a few rhymes for their talent.
So share the Mother Goose Rhymes with your children. Here are some ideas if you have children over six. Let them create a Mother Goose book for their younger siblings. Gather information about  the meaning of some of the rhymes and then study the events that inspired them. Ring Around the Rosie is a great place to start. (http://www.rhymes.org.uk/ring_around_the_rosy.htm)
Let them make the lunches to serve and the pop corn for the family later.
One important point from this weeks traveling Spark Station. I was able to pull this together, including making the puppets and gathering materials, in about an hour and fifteen minutes. Of course there is way more here than you would normally find in the Spark Station at one time. So it could have taken even less. I was back in bed before 8pm. This doesn't need to take a lot of time and can really be wonderful for children.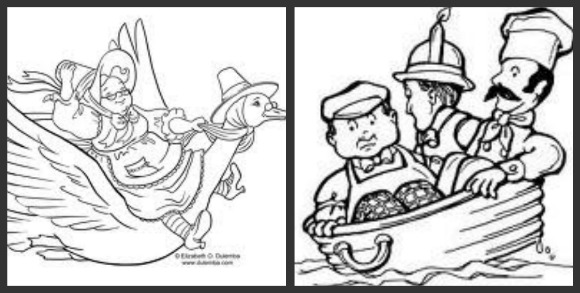 Another tip about the Traveling Spark Station. Each week I hope that I give you enough ideas, websites, information and crafts that you can spread it out over a week or more. When I am working with a new topic I don't put everything I find in the Spark Station at once. I add something new a couple of times a week over a few weeks or months depending on the topic. So keeping your Spark Station filled with fun and inspiration so that your children will beg for structured family learning time doesn't have to break your time bank.
Possibly Related Posts: