Spark Station Mastery Special $39
What if your children literally begged you for family learning time? Transform the educational environment of your home. In this course, I'll show you how to
inspire your children to want to learn
rather than requiring that they learn. I'll teach you the 5 Rules of Engagement, which will bring you
 deeper educational experiences, sweeter family relations, and brighter inspirations.
WHY THE LOW PRICE?
This course was created for homeschool families back in 2011. It was recorded specifically for homeschool parents so that they could apply the principles that are taught in their homeschool efforts. BUT a BIG change is coming. Over the years I have discovered that this isn't just an educational tool but a Family Connection Tool. It helps families work, play and learn together. It has a far broader application than homeschool. So the entire course is in the process of being re-recorded with this new focus in mind. It will still have a section on homeschool application but the whole course won't be homeschool specific.
Now is your opportunity to get this amazing course while it is still geared totally for homeschool families. The tool is easy to create, fun to use and will revolutionize your homeschool efforts.
Spark Station Mastery Online Course – Regularly $147
Your Gift $39.00
"Even though my work has been centered in Leadership Education for many years, Mary Ann has helped me access a tool of inspiring that I understood in my head, but was missing in practice. And, she has taught me principles that really make this tool work in a powerful way. If you're willing to implement the principles, Mary Ann delivers on her promise–to help you create a magical learning space in your home where your children love to learn." -Jodie Palmer, Co-Author of Leadership Education Family Builder

WHAT'S IN THE COURSE
Hi! I'm Mary Ann Johnson, the Home School Coach and Spark Station expert. Welcome to the Spark Station Mastery Course! The Spark Station Mastery Course is designed to make it easy for you to transform the educational environment of your home even with all the other tasks and responsibilities vying for your time. The lessons are divided into small, easy to digest pieces that take you through the program bit by bit. Complete the course as quickly as you like, or take your time to really dive deep into the material.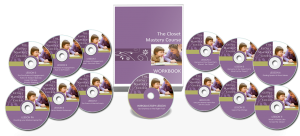 Each Spark Station Mastery Course includes 13  MP3 downloads, a PDF printable workbook with assignments and homework exercises and a system for tracking your progress!
Classes Include:
Introductory Lesson: Get Started on the Right Foot
Lesson 1: Rule 1—Structure Time: We are prone to let everything come before school or family time: work, community service, housekeeping, gardening, yard work, our hobbies, and a myriad of other things – To stop that leakage we need to structure time for family and inspiration and then consider it fairly sacred.
Lesson 2: Rule 2—Be Present: What does it mean to be present? It means to be engaged heart, mind and soul. It means you aren't washing dishes, folding laundry, or talking on the phone.
Lesson 3: Rules 3-5—Keep it Special, Keep it Simple, & Weekly Planning: These three rules will help keep the "Christmas time" feeling in your Spark Station.
Lesson 4: Elements of the Spark Station Part I—Where's the Spark Station? It does matter where you locate this tool!
Lesson 5: Elements of the Spark Station Part II—What's In the Spark Station?
Lesson 6: Finding Sparks & Great Ideas- A spark is anything that a child says or does that lets you know they are interested in something right now.
Lesson 7: The Power of Mental Scripts- Keep your mind on the things you want and off the things you don't want. Remember the old proverb: Be very careful what you set your heart on, for you will surely achieve it.
Lesson 8: Your Family Mission Statement- This is a guide to help you teach core values in your family.
Lesson 9: Your Master Inspire Plan- This is like your educational road map.
Lesson 10: Supporting Change- When we learn about something that we really want to do, why don't we do it? Why don't we make changes? Why do the changes we make not last? Get help to make changes stick in this lesson.
Lesson 11: What's It Really Like to Use the Spark Station?- Now lets talk about the realities of working with children and the Spark Station. Life isn't perfect!
Yes, I want to create a magical learning space where my children love to learn! I want to STOP STRESSING and start enjoying my children more!
Spark Station Mastery Online Course – Regularly $147
Your Gift $39.00
It's a fact that masters have mentors. If you want to do anything great, use the help of a mentor. Mentoring with the Home School Coach will make a world of difference in your efforts to create your own magical learning space where your children love to learn. You can make a significant improvement in how your children respond to learning, respond to family learning time, and respond to your efforts to inspire them through the Spark Station Mastery Course. You can have deeper educational experiences, sweeter family relationships and brighter inspirations.
What others are saying about working with the Home School Coach . . .
"Mary Ann is like the wind beneath a parents wings. The confusion and frustration of how to inspire disappears as Mary Ann takes you by the hand and leads you into a world of family inspiration and fun." -Shiloah Baker, Founder, The Homemaking Cottage
"My kids ran to the [Spark Station] yesterday when I said it was time for school. Your ideas work! Thank you so much.  I am so grateful that Mary Ann Johnson came into my life…It' s no joke, by using her rules and ideas, I have kids who run to the [Spark Station] when I announce that it's schooltime. Just last night, my nine-year-old, one of my rascals said, "Well, we better have school tomorrow." -Celestia Shumway, Founder, TJED Library
"The whole environment in our home and the way we look at home school has improved. Thank you so much! Your class is a gem. It really was the next step that I needed to move forward with our home school." -Amanda Bradshaw, Homeschooling Mom
If you are ready to transform yourself and take your home school to the next level then this is the perfect training tool for you! Click on the button and start enjoying the educational process with your children more. Start feeling more successful about your efforts at parenting well. Start having more joy!
To your family's success!
Mary Ann Johnson, The Home School Coach
Spark Station Mastery Online Course – Your Gift $89.00